Show-Erfolge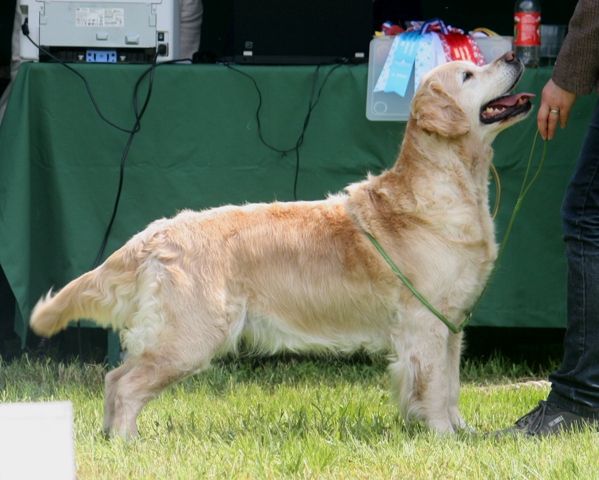 Beste Senior-Golden Retriever-Hündin 2015 im ÖRC
Mit der IHA Oberwart 2016 hat sie nun endlich auch die Voraussetzungen für den Österr. Veteranenchampion erfüllt.
Besonders freue ich mich, dass man ihr die HD E noch überhaupt nicht ansieht - im Gegenteil, sie bekommt durchwegs gute Bewertungen für ihr Gangwerk. Auch im Alltag hat sie keine Einschränkungen.
IHA Oberwart, 16.7.2016

Vorzüglich 1, Veteranensiegerin


Richterin Dr. Judit Szilagyi: "9 and a half years old, bitch in very nice condition, nice head, good neck, good body, nice angulations, goo movement, nice character."
Show and Work Mageregg, 14.5.2016

Vorzüglich 2, Res. Veteranensiegerin


Richterin Paula Edwards: "Exellent bone, good reach of neck, flowing into level topline, which she held on the move,9.5 y - impressed by her overall condition, moving around the ring with good reach and drive just like a 2 year old."
IHA Graz, 5.3.2016

Vorzüglich 1, Veteranensiegerin


Richterin Angela Cooper: "Lovely girl, enjoy her day out, feminine head, good reach of neck, level topline, short coupled, well lay back shoulder, good rear angulation, good bone, moved well."
Retrieverfestival Schloss Grafenegg, 25.9.2015

Vorzüglich 2, Clubveteranensiegerin


Richterin Eeva Rautala: "Very nice type, good size, charming head and expression, good eye colour, compact body with good depth, well boned, well angulated behind, ok in front, moves well with nice drive, still very sound, very active temperament and in good shape condition"